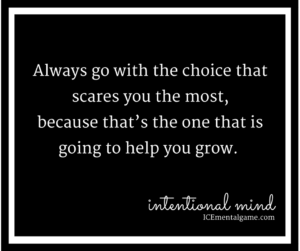 Does your mindset keep you in a cage?
A strong mental game requires a mindset of Learning and Growth.
The top performers in any profession understand that:
Mistakes, challenges and "impossibilities" are opportunities for learning and innovation.
They keep the big picture in mind.  It is not about achieving the goal, it is about the journey.
They never get "it" done, that there will always be a new adventure waiting.
They are always capable of change or improvement and new ways of looking at things.
They can take any criticism, failure or weakness and make it work for them.
No matter how you currently think, a mindset of Learning and Growth is possible for everyone.
Depending on what your habitual mindset is, changing your mindset could be as easy as a being aware of what you are doing and a quick shift in perspective or more commonly it will take a lot of hard work and effort.  Even if it takes a lot of work, you don't have to wait to feel the benefits because in the process of creating a learning and growth mindset, you will learn and grow.
The Learning and Growth mindset:
Last May, World and Olympic Ice Dance Champions Tessa Virtue and Scott Moir (Canada), announced their intention to make a run for the 2018 Olympics. Tessa said, "It's been fun for us to work on new technique and sort of branch out and analyze our skating in a different way and think, okay how do we want to improve and where do we want to take it and what direction we want to go in." (PJKwong Podcast 5/2016).
This team already has an amazing history.  Their awards include Olympic Gold, 2 Olympic Silver Medals, 6 World Championship medals (2 of them Gold), and 7 Canadian National Championship titles. They said that they are aware of how how much sport of Ice Dancing has advanced since they last competed.  No one would criticize them if they decided to retire.  However, instead of playing it safe or doing what made them immensely successful in the past, they are excited to push themselves explore where they can take their skating to next.
The Fixed Mindset
The opposite of the learning and growing mindset is a Fixed Mindset. People with a fixed mindset are trapped in a cage of their own creation.
They believe:
I am born with certain qualities, and that these qualities are carved in stone.  Unchanging.
If I have to work hard or put a lot of effort into something, it means I am a failure.
I need to prove that I am talented, over and over.
Every situation is an evaluation of my abilities, personality or character.  Am I a winner or a loser? Will I be accepted or rejected? Will I succeed or fail?  Will I be loved or rejected?
When you are stu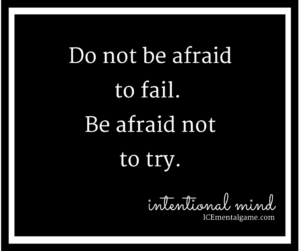 ck in the Fixed Mindset, you believe that no amount of study or practice will improve your situation or ability in your sport (so why bother);  If I have to practice hard, I am not the best, I am a failure. You probably believe that the people who are top in their fields are "gifted" and don't believe that they are also the product of a lot of hard work.
John McEnroe, an American professional tennis player, formerly ranked number one in the world, acknowledges that his fixed mindset held him back when he competed. McEnroe was infamous for his temper causing tantrums and confrontations leading to occasional fines and suspensions during big matches.
McEnroe is considered one of all time greats in the tennis world. Tennis insiders speculate that he could have been even greater had he cultivated a more learning and growth oriented mindset.  In his amazing career he won eight year-end championships, 19 Grand Prix Super Series titles, seven Grand Slam singles titles, nine Grand Slam men's doubles titles, and one Grand Slam mixed doubles title.
Carol Dwek author of Mindset said of McEnroe, "He didn't like to practice—if you're naturally talented, why should you have to? He couldn't admit his mistakes or take responsibility for his losses—it was always something or someone else's fault. He didn't work to overcome his weaknesses—he remained vulnerable to distractions when he was on the court and never learned how to tune them out. (On Page Magazine 2006).
The trap of a fixed mindset:
A common example is a skater that learns skills very quickly in their first years of taking up the sport.  Jumps and spins, even the axel were easy.
Skating, being a very difficult and technical sport, it is only a matter of time before even the most "naturally talented" skater hits a point where the skills they are learning need a great amount of practice to master.
Another example would be a young basketball player who is taller, stronger and more coordinated than his peers.  He scores the most points for the team, blocks the most shots and is kid the coach goes to when a play make is needed.  Eventually, his competitors grow and mature, and physical attributes alone cannot keep him ahead of the competition.
In these examples, if you have a fixed mindset and are faced with skills that you can't master as easily as you did in the past, or all of a sudden instead of head and shoulders above the competition, you are dead even, you might decide to quit because you believe that you don't have enough talent to make it to the top.  If you don't believe that you can improve with practice (learning and growing), you have no reason to continue.
This thinking is reinforced by what you see on the internet.  It is easy to forget that most of what we see at competitions or in the news are the "highlight reels" of the successful skaters.  We don't see the struggle and endless hours of practice, then ups and the downs, the reality of the 4 years that it took for that 4 minute championship program.
With a mindset of growth and learning, you know that eventually you will master that double axel with practice.
People can have a fixed mindset in one area of their lives and a learning and growth mindset in another area.  
You could have a learning and growth mindset in math or science, but a more fixed mindset when it comes to sports or art.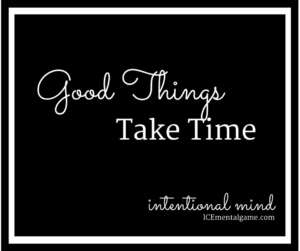 Take a good look at your mindset when it comes to your sport.
Take Steps to Change
Value effort above talent.
Think beyond awards and medals.  Know why you skate and keep it always in your heart.  Focus on and enjoy what you do, every moment of it.
Accept your weaknesses and imperfections;  By acknowledging that you are flawed you can begin to address them and make a change.
See setbacks and adversity as opportunities for growth;  Instead of roadblocks, they are challenges that can lead to valuable knowledge and experience.
Stop seeking approval;  Do it because you want to, because it makes you feel good inside, not because you think people will like you better for it.
Look for areas in your skating and your life where you might have more of a Learning and Growth Mindset and transfer it to an area that you feel stuck in a fixed mindset. For example, if you put a lot of effort into leveling up in video games or painting pictures on your nails, use that experience of effort leading to success help you change the way you think about jumps.
Stick to the process.  One step and a time.  One thought at a time.
When you make the choice to adapt a Learning and Growth Mindset, you create a strong Mental Game and at the same time, give yourself the gift of hope.
Start your mindset shift with a free mini course: Bust Confidence Myths
Download Free Confidence eBook
Get off the confidence roller coaster. Always be ready to skate your best in practice and competition.