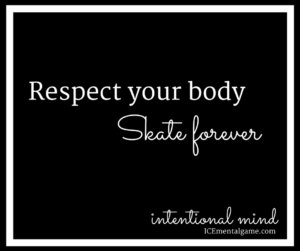 NEW Listen to this article in audio
We all have days when we feel tired or irritable. Usually we can easily identify the reason. Maybe it is because we binge watched our favorite show past our bedtime, or because we ate too much junk food.
In the life of a competitive athlete who is constantly pushing the physical and mental limits to train towards a goal, lingering fatigue and irritability could be an early warning sign that if addressed right away can save months of frustration, stress and lost training time.
Competitive figure skaters should have a training plan for the year that takes them through off season conditioning to peak competition shape. Peak competitive performance is smoother with strong mental preparation leaving little to chance during a training season.
Your plan will depend on your:
Skating level
Age
Federation or country's schedule of competitions
Health (injury free)
As a skater moves into the qualifying season and international (ISU) competitions, many skaters want to start training more intensely so as to be in peak shape for their most important competitions of the season.
To insure that you give yourself the best chance of performing when it counts, make sure you understand the difference between Overload and Overtraining.
Overload
The Overload Principle is used in training programs for improving body fitness, strength and function.
When using the Overload Principle, the body is overloaded, given exercises that make it work harder, faster or longer than is comfortable given its current conditioning.
In response, the body (muscles, organs and systems) physiologically adapt to the extra load and improve performance. A common example is a weight lifter who bench-presses a little more weight each time the current weight becomes easier, and over time builds up muscle strength.
The way this works is that lifting weights causes intentional damage to the muscle fibers during training. During sleep and recovery, the body not only repairs the damage done, but also adapts and improves the muscle fibers in order to more easily lift the load the next time.
In a well-designed practice program, a skater will be using the overload principle to for example: improve explosiveness in jumps, speed in transitions and stamina in programs.
Running back-to-back programs is a great example of how the overload principle works. A skater will start with one program run through, get used to that, and then add a second program runthrough with no jumps.
When this becomes easier, the skater will add the jumps in the second runthrough, or start with a full program with jumps and a half program with jumps. Eventually a skater will be able to run back-to-back programs with jumps because their body has gradually adapted to the increased load.
The overload principle is key in improving athletic performance, and must include adequate amounts of rest and recovery. It is during the rest periods that the body, particularly the muscles have a chance to adapt and grow stronger.
Overtraining Syndrome
Is caused by excessive high intensity training and not enough rest and recovery. In other words, overloading the body for training as we talked about above, but not allowing the body the chance to rest in order to repair and adapt.
Overtraining involves not only muscles, but also nerves and hormones. This causes more general symptoms in the body and makes it more difficult to overcome.
The definition of Overtraining:
"A physiological state caused by an excess accumulation of physiological, psychological, emotional, environmental, and chemical stress that leads to a sustained decrease in physical and mental performance, and that requires a relatively long recovery period."
Remember those days when after training hard, your muscles feel like jello, you have aches over your pains, and all you want to do that night when you get home is lie in your bed and stare at the ceiling, or watch YouTube videos? Although this is a common experience during athletic training, this is not overtraining.
Overtraining occurs over a period of time and if ignored, can lead to burnout, illness, or even clinical depression. For example, if you take a week like the one above, stretch it into a longer period of time without adequate rest and recovery or days off, you increase your chance of problems.
Each athlete is unique; there is no specific amount of hard training and lack of rest at which the danger of overtraining begins. Both athlete and support team must monitor the physical and mental state closely during periods of active training.
It is tempting to keep pushing when a well-designed training program reaps physical and mental rewards on the ice, but in this case, more is not better.
The training of an athlete is a balance of science and art. It is worth spending the extra time monitor this because when an athlete hits the point of overtraining syndrome, performance starts to decline and mentally an athlete can lose motivation. It will take precious time to heal the athlete and get them back on track.
Here are some signs that you might be overtraining:
Lingering Fatigue- mental and/or physical
Increased swelling in the body due to subcutaneous water retention
Decreased performance
Decreased muscle explosiveness
Decrease in muscle reaction time
Increased resting blood pressure
Lingering soreness
More frequent or longer lasting illnesses
Irritability
Lack of motivation
Mood swings
When you start to experience a decrease in your ability to execute your elements, or your performance starts to decline instead of improve, the reaction of many skaters is to push harder and rest less.
This leads to a cycle of poor performance and increased training, coupled with increased frustration and decreased confidence.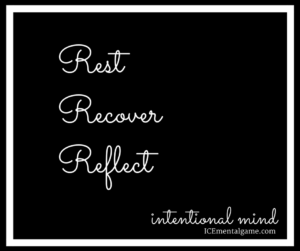 How to prevent overtraining syndrome
Get a well designed plan for your training.
Always allow adequate rest and recovery time each week. Make sure you take at least one day away from doing and thinking about your sport. Active rest like walking or stretching is encouraged. Get out with friends or go to a place like the beach, forest or a place of natural beauty.
Design a training program using periodization cycles that takes in to account your goals from long-range (quadrennial cycle-olympics or season) down to your daily workouts. It will incorporate weekly cycles: hard, medium and light training days which maximize your body and mind's potential for gains. A periodized program will maximize your performance to peak during important competitions.
Check in daily and weekly. ICE athletes are trained to reflect on their daily training routines. They learn to pay attention to how they feel, and this helps them to recognize when they need to back off and rest to avoid injury or when they can push through.
Although it is not common for youth athletes to experience overtraining syndrome purely from training, competitive skaters are busy with school, social and family demands as well as training every day. It is important to make rest and recovery a mandatory part of any competitive training program.
It is common for an athlete to be so tired that they do not look forward to training the next day, but they can usually go in and rise to the occasion and their performance continues to be consistent.
However, if at anytime you:
Don't want to go to the rink and don't know why
Find that you can't land your jumps or nail your skills and can't put your finger on the reason
Don't care about skating anymore, but can't explain why
Before you hang up the skates and "retire" explore the possibility that you might have depleted your body and mind's reserves and just need a period of rest and recovery.
If you pay attention to how you feel, you can catch the warning signs before your body moves into the more serious overtraining or burnout.
If you find yourself fitting the symptoms of overtraining, talk to your parents and coaches and if you need to, seek professional help you manage your "return to play" plan.
Many athletes step away from their sport to rest and recover, and those who return come back with a stronger commitment to keep a balance between their sport and their health.
With balance, there is no limit to an athlete's success.
---
Learn more about confidence: download ICE Mental Game Free Confidence eBook.
Download Free Confidence eBook
Get off the confidence roller coaster. Always be ready to skate your best in practice and competition.