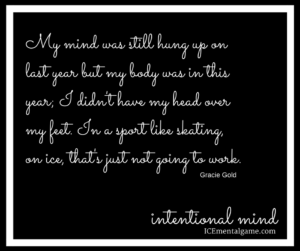 In the 2016 World Figure Skating Championships, about a year ago, Gracie Gold, a favorite for the title, struggled and missed the podium. Instead of pausing to take what could be learned and putting the rest in the past, she went down the rabbit hole of self doubt (see previous article and video interview here).
Even elite athletes who have every reason to feel confident in their abilities need to work on their mental game. Being present and aware when something is not working is essential to being great.  Athletes need to deal immediately with self-doubts or get support when things get tough.  Thinking that a session or two working on your mental game before competition is not enough. It has to become a lifestyle.
This year at the 2017 US Figure Skating Championships, Gracie Gold once again finished off the podium, 6th overall, and did not qualify for the World Team.  In addition, her coach Frank Carrol announced publicly that he and the skater would be parting ways.
Carroll is a master coach who has worked with of many World and Olympic skaters such as Olympic Champion Evan Lysack and World Champions Michelle Kwan, Linda Fratianne, and current stars like Denis Ten.
When interviewed, Carroll said, "I think we did a pretty good job together, and then we had one complete disaster at the end of last year (worlds), which to me wasn't horrible, being fourth in the world and first in the short program.
"That, to me, isn't like the end of the world, (but) I think that basically it crushed her, and she felt like it was the end of the world. And then she could never get out of it. It didn't matter what anybody said or did — it just wasn't going to be."
America's darling Gracie Gold admitted struggling with her confidence after Worlds.   She worked to get herself back on track, to banish the self doubts and work her plan. By her own report, she still had that monkey on her back and could not shake it off.
She said, "My mind was still hung up on last year but my body was in this year; I didn't have my head over my feet. In a sport like skating, on ice, that's just not going to work."
…instead of immediately dealing with it and moving on, I let it fester and was like: I'm fine, I'm fine, I'm fine, ignoring it, ignoring it. 
Most of the season she was "fiercely self-critical about her failure at worlds" and only just before the World Championships during a recent trip to work with a former coach, Ouriashev was she able to forgive herself.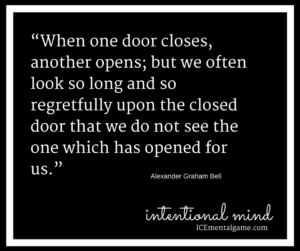 It takes a true Champion mindset to step back and evaluate with a "growth and learning mindset." To accept what the past has to teach, then leave the past behind.
Mentally tough athletes are not perfect, they just know how to adapt. They ditch unhelpful habits, and focus on creating useful habits and a mindset that allows them to succeed.
Sometimes a tough experience is just the thing athletes need to get back on track.  Gracie Gold reported that she is making choices to help her train more effectively like getting up early to skate instead of training in the afternoon.  She is also taking charge and changing things she doesn't like, doing elliptical training instead of running.
Gracie has clear goals and new coaches, Marina Zuoeva and Oleg Epstein.  She is excited for the new season, and back on track to qualify for the 2018 Olympics.
 "I just needed a pause." -Gracie Gold
An essential part of a strong Mental Mindset is to take time to briefly assess each practice and competition session.
At ICE we do a Post Practice or Competition Assessment to take note of what you want to improve and what you did well.  It is the best way to step back and gain perspective.  Often the mistakes or failures will not seem as bad when looked critically.
Make a point to pause, reflect and learn, then let go of past mistakes. If you take a few minutes after each practice or competition now, you could end up saving a season of heartache.
Read the first article here:
Gracie Gold Part 1 ICE article: How to Turn Disappointment into Motivation

Resource: ESPN Article: Gracie Gold–This season, I felt like Tom Brady in the first half of the Super Bowl
Download Free Confidence eBook
Get off the confidence roller coaster. Always be ready to skate your best in practice and competition.