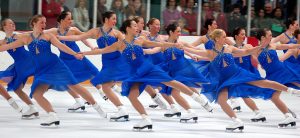 If you skate well in practice, but you can't seem to turn in the same type of  performance during competition, you are letting your mind get in the way.  You are not alone, most figure skaters struggle with their performance in competition, and mental game coaching can help.
I'm so frustrated that I can't perform relaxed and free in competition.
I don't feel I'm the same confident skater when I step on ice for competition.
I practice harder, but I can't seem to get results in competition.
I wish I could trust in my skills at meets so I can do better.
I try not to make mistakes in competition, but I do because my performance is tight, tense
If these sound familiar, and you are ready for a change, I guarantee Mental Game Coaching can put you back on track to your goals.
ICE Mental Coaching for figure skating works with competitive skaters like you to build a strong mental game and become the Champion you know you are.  
Improve your mental game for skating from anywhere in the world!
Skype, FaceTime, or Phone

You will learn mental game strategies to boost confidence, improve consistency, and trust your skills when you perform:
Take your practice performance to the ice more consistently.
Uncover self-doubts and be proactive with your self-confidence.
Increase the consistency of performance with mental preparation routines.
Learn mental strategies to find the flow and become a competitor.
Manage distractions during meets and perform with a laser-like focus.
Don't spend any more time under-performing in practice and competition.
Make a choice to build your Mental Game muscles so that you can Compete with Confidence!
ICE Mental Coaching Program 
Individual coaching sessions in 4 session packages. (6 month commitment recommended.)
The Athlete's Mental Aptitude Assessment (AMAP).
Weekly coaching sessions of 45 minutes.
Session Summary and Action Plan.
Unlimited email correspondence.
Coach and parent communication.
Remote Competition support (online chat)
Investment: Assessment and first 4 sessions: $550 USD
Subsequent sessions $450 USD/4 session package.
After 6 months: $400 USD/4 sessions
A comprehensive program of individual mental game coaching for the year.
12 month commitment in exchange for the lowest investment.
Click for details.
Working with a Mental Game Coach will fast track improvement in your mental game, make lasting changes in your mindset for practice efficiency, intensity and performance.
Mental Game Coaching is the missing link you have been seeking.
You invest so much on the ice…
ICE Mental Game Coaching will insure your investment pays dividends.  
Schedule your free 20 minute Break the ICE mini session where you can get your questions answered or email Coach Pomai at coachpomai@icementalgame.com.
Download Free Confidence eBook
Get off the confidence roller coaster. Always be ready to skate your best in practice and competition.