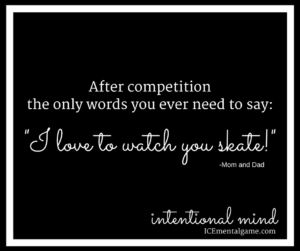 Parenting styles in sports are as varied as the types of athletes in the world. Everyone has heard of, or been around the "nightmare" sports parent. You know, the one with the cringeworthy behavior; like screaming at their child after a competition or game, the child mortified, more about being shamed in public than how they performed.
When we witness acts of inappropriate behavior like this, we avert our eyes and say a silent prayer that we never do the same to our kids.
When it comes to youth sports there are a variety parenting styles and relationships between parents and athletes. For the purpose of this article, I am going to simplify and generalize the types of parent involvement in regards to their child's sports experience.
What kind of Sports Parent are you?
over involved
under involved
balanced
fluctuating
Problem parents exist. You probably know at least one in every rink or on every team. In the worst cases, coaches resort to banning them from watching their child's practices, and go out of their way to avoid contact, even resorting to running away when they see the parent looking in their direction.
We poke fun at situations like these, but in reality it is a concern. Disruptive parent behavior affects other skaters, athletes, parents, coaches and anyone in the vicinity.
It is understandable that a parent wants the best for their child. They are following their natural instinct to preserve, protect and promote their children as set forth by the laws of nature.
Many parents who seek mental game coaching for their youth athletes privately acknowledge that they know they are part of the problem (their child's difficulty in sport), but don't know how to change.
Parents are a child's first teacher. It is our privilege and our honor to be there for their first words and their first steps. It is gratifying to witness their first axel or first soccer goal. We are there to celebrate their first medal.
It is hard to let go, and sometimes confusing when we know nothing about the sport that our child gets involved in. We can feel lost and useless. We are so used to being in control and in the driver's seat of our child's educational experiences. Most of the time we are "experts" or at least know more about the subject than our child does.
When a child starts a technical sport or a select team sport, parents are asked, maybe for the first time, to let go of control. This can be challenging, especially in skating, where there is the potential for a long term close relationship between skater and coach.
Parents can feel unsettled and unsure of what they can do for their child in this situation.
It is human nature to want to feel useful and involved, especially where our children are concerned. When we are focused on doing something useful and important to contribute to our child's experience, we are less likely to cross the line into, coaching, for instance.
When parents understand their role on the young athlete's support team, and the other team members acknowledge that role, they are less likely to "act out" and more likely to be an asset to their child's progress in the sport.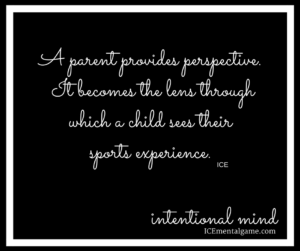 Parents continue to be an essential part of an athlete's world no matter what their age. Their role changes and adapts as their child's ages and their skill level improves. On the athlete's support team, they are the second in importance to the athlete themselves.
Here are a few contributions parents make to a child's success in sport according to Fredricks and Eccles (2005)
Parents are:
Provider of sports experience–opportunity, transportation, finances, scheduling
Interpreters of the sports experience–The parent's perspective often becomes the lens through which a child judges their sports experience.
Interpreters of success or failure
Emotional influencers—stress, satisfaction
Role models–work ethic, sports participation, emotional reaction, sportsmanship
Have a legal and ethical responsibility to be involved
The parent is a child's touchstone, even as the become elite athletes. A child will follow a parent's example. If a parent or parent/coach yells at other skaters on the ice. A child will be more likely to follow this example, or blame others for "getting in their way." If a parent constantly yells at the referee or questions a coach's strategies, a child might become "un-coachable" and disrespectful to the game and the individuals associated with it.
During a figure skating competition, if a parent voices being upset about the judging, a child might learn to think judging is unfair. This can negatively affect how a skater behaves at practice and competition.
Remember that your child is participating in this sport. They have to live with the rules of the competition. When you criticize the system, the officials, or other athletes, you set your child up for future difficulties.
When an athlete feels that judging is unfair it can stall their improvement. They might learn to blame the unfairness of judging for their failures instead of working to improve their skills.
Parents and athletes who feel that the system is unfair can resort to poor sportsmanship and bullying.
Negative parental behavior can lead to increased dropout rate of coaches, officials and athletes.
A parent who is paying [a lot] for coaching can unwittingly undermine the coach's authority by giving their child mixed messages, or coaching them off the ice or in the backyard. This is a waste of money and time, and a source of frustration for the child.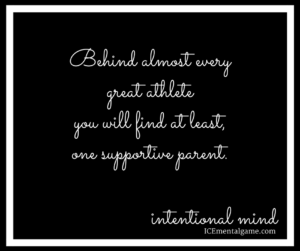 What can a parent or coach do to foster a positive sports experience for youth athletes?
Parents and coaches can form a professional relationship with clear lines of communication that is of benefit to everyone.
In a TSL interview, expert coach Rafael Arutyunyan, shared some of his thoughts about the role of a high level athlete's parent. He said that he as a coach doesn't "like" (favor) one athlete over another.
Parents must love them.
Coach must respect them.
He said that it is natural that an athlete will communicate first and foremost to their parent if there is a problem. It has been a lifelong "culture" to do so. But the athlete also needs to communicate with their coach.
Parents can help to facilitate the line of communication between athlete and coach by encouraging their child to pass on important information. A parent can educate their children about what is relevant and important for their coach to know in the context of their sport performance.
Many parents are well intentioned but uninformed.
Parents can get educated about the sport by reading articles and asking their child and their child's coach for resources. An educated parent will use their knowledge to enhance their own enjoyment of the sport and be able to look out for their child's best interest as well [make sure they are getting expert coaching and monitor for any distress signs].
Coaches can involve parents by acknowledging that they are experts on their child outside of their sport. They are valuable resources that can help a coach get the best out of an athlete in good times and in more challenging times as well.
Parents play an important role in the development of youth athletes. An involved parent can enhance their child's experience in sport with the mindset of learning, growing and loving.
Figure skating parents: Another great way to help your athlete during competition is to decrease your stress and worry.  Download your Figure Skating Competition Money and Time Saving Tricks eBook complements of ICE Mental Game.
Resources:
Fredrick and Eccles. Family Socialization, Gender and Sports Motivation and Involvement (2005)
TSL interview with Rafael Arutyunyan
Download Free Confidence eBook
Get off the confidence roller coaster. Always be ready to skate your best in practice and competition.